English Literature – Article ☆ Meet my friend Swami Sudarshanam…. ☆ Shri Ajeet Singh, Ex-Director (News) Doordarshan
Shri Ajeet  Singh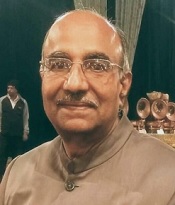 (We present an article 'Meet my friend Swami Sudarshanam…' written by Shri Ajeet Singh ji, Ex-Director (News), Doordarshan. We are extremely thankful to Shri Ajeet Singh ji for sharing experience of his friend Mr. Srinivasan Sudarshanam now Swami Sudarshanam while he was AIR's correspondent in New Delhi who covered reporting of 13/12 attack from inside Parliament.) 
☆ Meet my friend Swami Sudarshanam… : Shri Ajeet Singh ☆
Srinivasan Sudarshanam wanted to be an army officer after doing his B.A. in Literature in Sailam city of Tamilnadu. Medical test held at Roorkee in present day Uttarakhand, failed him.
Living with his sister in New Delhi, he tried for several jobs and got the post of a Public Relations Officer in the Delhi Industrial Development Corporation where he worked for about nine years. In between, he cleared the UPSC examination for the Indian Information Service in 1983 and was posted as a Correspondent in the All India Radio where he worked for over 22 years. Taking voluntary retirement in 2005, feeling that it was getting a routine dull job, Sudarshanam returned to his native Chennai to take up the job that his heart wanted for long. He became a priest in the famous Narsimha temple. Friends now call him Swami Sudarshanam.
"Radio job was interesting and several incidents that I was witness to, stay in my mind".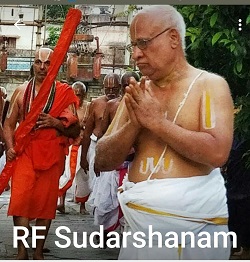 (Former Reporter Sudarshanam is a Swami now)
Reporting 13/12 attack from inside Parliament
Asked to elaborate, he listed the terrorist attack on Parliament on the 13th of December in 2001, as the most vivid one.
"It was an attack on the most significant symbol of Indian Republic and democracy. Our brave security people foiled it with a great sacrifice. I shudder to imagine what could have happened if the terrorists had succeeded in entering the Parliament House.
"The Business was as usual in Parliament that day. Senior colleague Sebastian Robert went to cover the Lok Sabha and I went to the Rajya Sabha Press Gallery. At sharp 11 AM the Rajyasabha meeting began. The Opposition did not allow the House to function. Several issues were raised. Some members even went to the well of the House and shouted slogans. The House was adjourned for the day. I rushed to AIR Room inside the Parliament House, to file the development. The same thing happened in the Loksabha and Mr. Robert and myself filed a combined story. It was around 11.20 AM, when we heard a commotion from the ground floor. Rifles firing sounds and security persons running this and that way asking people to get indoors in their rooms. By the time we reached ground floor, the main gate was closed. MPs were running here and there. Fortunately, I heard a Security Officer talking in his walkie-talkie passing the information that terrorists in a car forced their entry at the main gate. When challenged, they fired. Some security persons were killed. Three terrorists got killed. Their attempt to enter the main gate was foiled. Two terrorists were rushing to the Rajyasabha entrance.
I told Mr. Robert and he went to AIR Room to file this initial but unconfirmed report. I followed up the developments.
Fortunately, I met the then Parliamentary Affairs Minister, Mr. Pramod Mahajan, who confirmed the above developments.
But the fate of the two terrorists who rushed to the Rajyasabha entrance was not known. We could revise our story quoting the Minister.
Soon the Delhi Police Commissioner arrived.
He confirmed that two terrorists who rushed to the Rajya Sabha entrance, were also killed by the brave security officers. I was doing the leg job and Robert kept on revising the story.
But another confusion cropped up. Someone was heard shouting that one terrorist managed to enter Parliament and is reportedly on the first floor. All were asked to close their rooms. About ten MPs came to AIR Room and were hiding themselves.
Friends believe me, my honest saying. Even PTI and UNI picked up details from AIR on that day. Soon it was confirmed that all five terrorists were killed in the shootout. Nine security personnel laid down their lives.
All India Radio, organized a day long discussion programme on the event. Myself and S. Robert were asked to participate in the programme. We both participated using Hinglish in the programme, both being Tamilian having just a little speaking knowledge of Hindi. The programme was well appreciated as we were filing the reports from ground zero.
I want to add here one thing. This was for a day only. Our friends who worked in North East, Jammu, Srinagar and in Chandigarh during long drawn violent crises, were constantly working under far greater threats and pressure. We should salute them. Compared to them, our lives were easy with this one-day affair" concluded Sudarshanam emphasising that reporting was quite a difficult job too.
Another coverage that he remembers is the Indian Army operation against the Tamil Tigers of the LTTE in Srilanka.
"I was deputed four times on month long tours to Srilanka. That was very difficult assignment. A newspaper had a headline "Capture Sudarshanam and Robert alive" quoting an LTTE commander's order to his cadre. Being Tamilian we were considered traitors by them.
I was deputed to cover Prime Minister PV Narasimha Rao's visit to the Swiss resort of Davos for the World Economic Forum. He faced a lot of questions on the economic reforms he was heralding and also those on the Babri Masjid demolition. He fared quite well.
Sudarshanam, a teetotaller, had a once in life experience at Davos. He had to take four pegs of brandy to beat the extreme cold at this snowy resort.
Sudarshanam also visited Germany, China and Mauritius but these were just routine coverages.
"22 years of life in New Delhi was very good except for the fact that I couldn't pick up fluent Hindi. My friends laughed at my broken Tamilised Hindi, but they enjoyed the vadas and dosas I offered them.
"My aged mother could talk only in Tamil and the mother of my Sikh neighbour only in Punjabi. But both the ladies gelled with each other very well and conversed for hours. When I asked my mother what she talked to the Punjabi lady, she only said that she was a good woman.
Back in Chennai, Sudarshanam did what he longed for life. He became a priest in the Narsimha temple.
Sudarshanam lost his wife Gita last year. He has no children of his own. He performs the temple duties from 6 to 10 AM. He gives religious education to about 40 children of the families living in the Guru Paradise Apartments. They are in 6 to 16 years of age and come in four batches age-wise between 4 and 8 PM.
"I was thinking of moving to an old age home after the passing away of my wife. Neighbours assured me of all help and I had to drop that idea.
"This is the best period of my life. I get a lot of bliss. Neighbours give me a lot of respect and help me if I need it ever, says he.
How is your fellow traveller and colleague of long years, Mr. Robert?
"He too has become a priest. He is a long white-robbed Christian Father in some Church.
We both had a long laugh. Life is a wonderful journey. Sudarshanam and Robert are now travellers of their respective religious journey. May be their directions are different, but goal is the same. Some glimpses of spiritual experiences in this final phase of their lives.
Long live my friends.
©  Shri Ajeet Singh 
Ex Director (News) Doordarshan
Mo. – 9466647037
≈  Blog Editor – Shri Hemant Bawankar/Editor (English) – Captain Pravin Raghuvanshi, NM ≈