(LifeSkills is a mission of Bisht couple (Shri Jagat Singh Bisht and Smt. Radhika Jagat Bisht) that creates a pathway to authentic happiness, well-being and a fulfilling life with objective to provide skills that make life happier, meaningful and worth living.  LifeSkills equips us with sustainable scientific tools to cultivate a happy and fulfilling life with a greater sense of well-being.)
LifeSkills
(A Pathway to Authentic Happiness, Well-being and a Fulfilling Life)
 Do you want to be happier? Would you like to increase your well-being and flourish? We help you do that!
 Let us begin with a quick overview by watching this short video: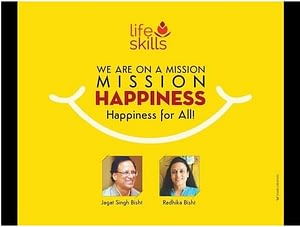 What is LifeSkills?
LifeSkills is a pathway to authentic happiness, well-being and a fulfilling life.
Our objective is to provide skills that make life happier, meaningful and worth living.
LifeSkills equips you with sustainable scientific tools to cultivate a happy and fulfilling life with a greater sense of well-being.
What do you do?
We conduct:
Retreats
Workshops
Seminars
Talks
Trainings
One-On-One Coaching
For Individuals, Institutions, Communities, Workplaces & Organisations.
What are the foundations of your programmes?
The foundations of our programmes are:
Positive Psychology
Meditation
Yoga
Laughter Yoga
Spirituality
What is your vision and mission?
We help you to flourish by enabling you to discover your signature strengths and virtues and deploy them in three great arenas of life: work, love and parenting.
Our mission is to propagate positive life skills to help people flourish.
Our guiding spirit is "bhavatusabbamangalam" which means: May all beings be happy!
What is the content of your programmes?
Our programmes include:
Yoga: Asanas, Pranayama, Meditation.
Positive Psychology: The Science of Happiness.
Laughter Yoga: Group Laughter & Laughing Alone.
Spirituality: Ancient wisdom of the sages.
We lay special emphasis on Positive Education, Positive Ageing, Positive Health, Yoga Nidra, Surya Namaskara, Anapanasati and Vipassana.
Our programmes blend the modern science of well-being with the ancient wisdom of the sages.
We feel indebted to the teachings and wisdom of Masters including Martin Seligman, Mihaly Csikszentmihalyi, Abraham Maslow, Swami Satyananda Saraswati, B K S Iyengar, Madan Kataria, Matthieu Ricard, S N Goenka, Thich Nhat Hanh and Buddha.
On what basis have your programmes been created and designed?
Taking care of body, mind and spirit is of utmost importance. It's like a tripod. All limbs must be equally strong for balance and harmony. Hence, we have taken a holistic approach blending carefully the best of positive psychology, meditation, yoga, laughter yoga and spirituality.
Our programmes are built upon eclectic philosophy: We have selected doctrines from various schools of thought and we are using what are considered the best elements of all systems.
With years of deep research and practical sessions, we have developed a unique and complete programme for health, happiness and harmony of the body, mind and spirit. It transforms the entire experience of life by taking care of all the relevant dimensions – physiological, psychological and spiritual.
All our teachings are non-sectarian, non-religious and non- political. We do not preach any rites and rituals.
What are the benefits derived from the various components of your programmes?
Benefits in brief of various components:
Positive Psychology:Authentic, scientific understanding of happiness and well-being; dispelling myths and wrong notions about happiness.
Yoga:Stimulation of endocrinal systems, taking care of neuro-muscular systems, suitable for modern day lifestyle diseases, body-mind union.
Meditation:Calming, concentration and purification of the mind. Clears clouds and lets you seek wisdom.
Laughter Yoga:Oxygenation of the body, strengthening immune system, stress relief.
Spirituality: Provides right view and right understanding of life. Gives spiritual insight into right speech, right action and right livelihood.
All components put together: Complete transformation of the entire experience of life.
What are the benefits of your programmes?
Benefits for individuals, workplaces, communities and institution:
Individuals: Health, happiness and peace.
Workplaces: Stress relief, team building, higher productivity, leadership and positivity.
Communities: Health, bonding and integration.
Schools/Colleges: Creativity, better concentration, EQ & SQ, all round personality development and strong immune system.
What programmes are available with you?
We have several programmes:
'The Wheel of Happiness and Well-Being' is our flagship programme. It is a multi dimensional, activity based programme covering the HOW of happiness.
'Healthy Happy Harmonious' is a special programme designed for women.
'Meditate like Buddha' is a workshop for happy and stress free life.
Here is a list of some of our programmes:
The Wheel of Happiness & Well-being
Happiness Boot Camp
Meditate Like Buddha
Antaranga
Bahiranga
Healthy Happy Harmonious
East Meets West
Positive Education
Happy@Work
Recipe for Happiness
Laughter Yoga
The Pursuit of Happiness
The Quest of Happiness
Pathway to Happiness
Corporate Stress Management
Who conducts the programmes?
LifeSkills has been founded by Radhika Bisht and Jagat Singh Bisht. They are on a mission: MISSION HAPPINESS! Happiness for all!
They conduct and facilitate our programmes.
About the Founders:
Both are qualified Laughter Yoga Master Trainers of international repute having rich experience with corporates, institutions and individuals of more than a hundred nationalities.
They have learned yoga and meditation from gurus in ashrams in Rishikesh and Dharamshala.
Both of them were laughter professors at the Laughter Yoga University and worked closely with Dr Madan Kataria, Founder of Laughter Yoga.
Radhika is a Yoga Teacher and has a long experience of teaching Yoga and Laughter Yoga to women and children.
Jagat is an author, blogger, and a qualified Behavioural Science Trainer and Master Trainer Happiness & Well-being,with a long experience as a Corporate Trainer with a Fortune 500 Company.
Where do you conduct your programmes and for whom have you conducted programmes so far?
We conduct programmes right at your doorstep – your workplace, corporate office, school, college, university, club, park, anywhere. Retreats may be conducted in resorts.
We have conducted programmes for Nestle, Abercrombie & Kent, State Bank of India, Airports Authority of India, Hewlett Packard, HCL, schools, colleges, clubs and old age homes.
Please watch this video to get answers to all your unanswered questions about us:
How can we contact you for conducting programmes at our workplace/ institution?
We may be reached at the email address: lifeskills.happiness@gmail.com
Are you there on the social media?
Yes. Here are the links:
Facebook: https://www.facebook.com/LifeSkillsIndore/
YouTube: https://www.youtube.com/c/JagatSinghBisht
Twitter:https://twitter.com/CoolBisht
Instagram:https://www.instagram.com/jagatsingh.bisht/
Google+:https://plus.google.com/u/0/+JagatSinghBisht
Can I join Team LifeSkills?
You are warmly invited to join us in this noble mission of health, happiness, harmony, well-being and peace.
The areas in which you may contribute/ collaborate include:
Marketing
Event management
Academic support
Administrative support
Teaching support
Social media
Legal advice
Copy writing
Research & Innovation
Multi-media & presentations
Public relations
Database management
Facilitating international participants
Liaison with HR of Workplaces
Organizing audience & programs
Guest faculty
Special presentations
Collaboration from like-minded & like-hearted
Logistics
© Shri Jagat Singh Bisht and Smt. Radhika Jagat Bisht